WHY WE DANCE AND DO THESE BODY PRAYERS FOR PEACE:
Sacred movement and song have brought people together to restore hope, overcome differences and celebrate our unity. The Dances of Universal Peace are part of this timeless tradition.
We dance to experience and express the beauty of our hearts through song, music, chant and movement.
We move to harmonize our bodies, voices and thoughts as a chorus of Universal Peace in the present moment.
We open ourselves to the currents of Creation and our feelings  as a result of being in a circle that expresses the rhythm of Sacred Unity.
We join the circle to be mindful of our home in the melody of Breath, Heart Beat and Earth.
We gather to remember and honor all people and traditions of the world that have come before us, that are present now and who will come after us.
We hold hands as a circle to be the presence where heaven and earth meet and vibrate through us as the music of love, harmony and beauty.
We resonate as Peace, becoming peace makers, inspired to plant peace in the garden of our lives.
We sing in a circle as a symphony of cosmic sound that soothes and heals our individual and collective wounds.
We create a refuge of blessing. We bless each other and the world to restore our wholeness and our potential to sprout acts of compassion for all beings
Menu:  Click on menu symbol in upper left corner to navigate menu to each page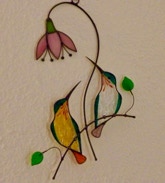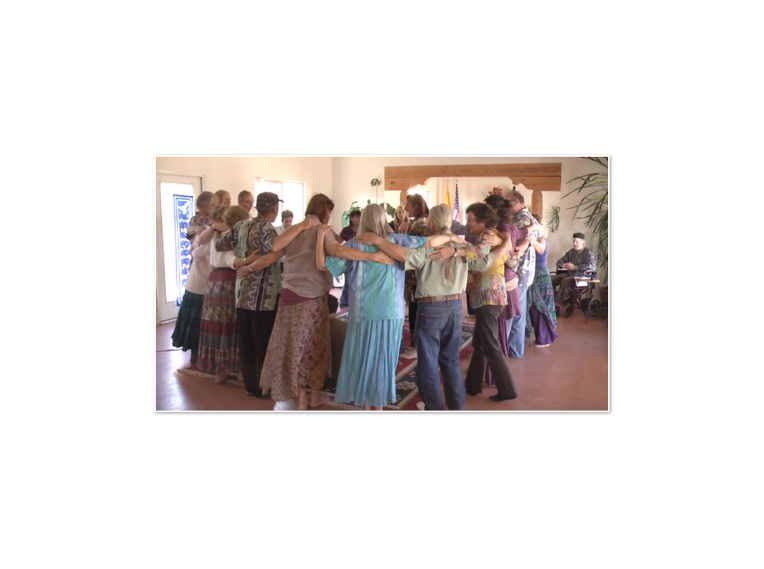 WHAT ARE THE DANCES OF UNIVERSAL PEACE
The Dances of Universal Peace and Walking Meditations are spiritual practice in motion. Drawing on the sacred phrases, scripture, and poetry of the many spiritual traditions of the earth, the Dances blend chant, live music and simple movement into a living experience of unity, peace and integration. This taste of our true nature - as Universal Peace - opens to the possibility of a deep spiritual revolution within the person.
A participatory experience; there are no performers and no audience: new arrivals and old hands form the circle together.  These circle dances are easy to learn, use simple and gentle gestures and movement; and take only a few minutes of instruction.No musical or dance experience of any kind is required and everyone is welcomed to join in. Participation, not presentation, is the focus. No special attire is required and dancers need not bring a partner.
Participants join hands forming a circle with the Dance leader, and possibly musicians, in the center. The leader teaches the sacred phrase, melody, and movements for each Dance and perhaps some context about that particular Dance.
When Dance lyrics include sacred phrases in native languages, attention is given to ensure that all have ample opportunity to pronounce the unfamiliar words comfortably and correctly. Most Dances are only four lines long and repeated many times, so learning is usually quick and easy.
Founded by Samuel L. Lewis (1896-1971), who was a teacher of  several spiritual traditions and who was  inspired by the  Indian-born Sufi, Hazrat Inayat Khan and dance pioneer Ruth St. Denis. The Dances of Universal Peace are now being celebrated all over the globe.
A Worldwide Family, A Grassroots Movement
Since the late 1960's, the Dances have spread throughout the world, touching more than a half million people in North and South America, eastern and western Europe, Russia and the Baltic countries, India, the Middle East, Africa, Pakistan, Australia, and New Zealand. Further networking and citizen diplomacy through the Dances have occurred in South Africa, Bosnia and the Middle East. New grassroots Dance circles are continually springing up around the globe, with over two hundred dance circles meeting weekly or monthly in the United States alone. 
Why We Dance
WE DANCE FOR PEACE:  Peace is fostered by holding hands in a circle of equals, regardless of culture, nationality, age, religion, or  social backgrounds.  A sense of separation may be healed by the collective experience of touching the depth of feelings generated through sacred phrases from many different spiritual traditions. 
WE DANCE FOR PERSONAL GROWTH:  Through the combination of music, singing, and moving together in a circle, we can release stress and limitations and invite joy and inner peace into our lives,
WE DANCE FOR DEEP ECOLOGY:  These Dances can help us access our  innate reverence for life  and our connection to the earth and all beings.
WE DANCE TO NURTURE CREATIVITY AND BEAUTY:  By joining the Dance Circle we  bring forth our  ability  to dance, sing, and  make music and  reclaim our  birthright as an artisans of the beautiful.
FOR CELEBRATION:  Being both fun and playful as well as profound, these Dances quickly create a common ground for small and large groups, uniting us all in what is most human and most divine.